Militia Generals
---
John Ashe (1720-1781) A Militia general during the Revolutionary War, John Ashe was born in Grovely, North Carolina, in 1720. As speaker of the North Carolina assembly from 1762 to 1765, he led the colony's opposition to the Stamp Act. As an officer in the colony's militia, he and his men tried to capture the colony's royal governor, Josiah Martin, at the outbreak of the Revolution.
He and his men captured Fort Johnston at the mouth of the Cape Fear River, but the governor escaped to a British ship.
Appointed a brigadier general of North Carolina's militia, Ashe suffered a military disaster at Briar Creek on March 3, 1779. While leading a force of 1,600 militia toward Savannah, Georgia, Ashe paused at Briar Creek to rebuild a bridge the British had destroyed. British Lt.Col. Marc Prevost launched a surprise attack, trapping Ashe and his men between the creek an a swamp. After holding their ground briefly, the militia panicked. Some leaped into the water. Some headed for the swamp. About 200 Americans were killed and about 170 captured. Only five British soldiers were killed.
Ashe asked for and received a court-martial, which found that he should have been better prepared for the attack.

John Cadwalader (1742-1786) A militia general in the Revolutionary War, Kohn Cadwalader was born in Philadelphia on January 10th, 1742, a cousin of John Dickinson, the "Penman of the Revolution." At the beginning of the War, Cadwalader was a member of the Philadelphia committee of safety and a captain of a company of militia. In 1776 he was made commander of a Pennsylvania militia regiment with the rank of colonel, and cooperated with George Washington in the battle of Trenton and Princeton.He was appointed a brigadier general of Pennsylvania militia in 1777 and turned down repeated offers of a brigadier general's commission in the Continental Army, preferring to stay with his own troops. Cadwalader took part in the battles of Brandywine and Germantown in 1777, and in the battle of Monmouth in 1778. On July 4th, 1778, Cadwalader fought a duel with General Thomas Conway because of disparaging remarks Conway had made about General Washington. In the duel Conway was badly wounded in the mouth. After the war Cadwalader lived in Maryland for a while, serving in that state's legislature. He died in Shrewbury, Pennsylvania, on February 11th, 1786.


Elijah Clark "Hero of the Hornet's Nest," and members of his family are buried in the enclosed cemetery. Their graves were first moved from their original burial places near Graball (10 miles North) to a site on the Community House Grounds in Lincolnton in 1952 to prevent inundation by the Clark Hill Lake. Following the establishment of Elijah Clark Memorial State Park by Legislative enactment, the graves were removed to the present site in 1955 by special dispensation of the Army Corps of Engineers. General Clark was born in Edgecombe County, N. C., in 1733 and moved to what was then a part of Wilkes County, Georgia, (now an area of Lincoln) in 1774. When the Revolutionary War broke out he became a colonel of militia. His activities against the Tories gave him his nickname. He led American forces against the British in battles at Alligator Creek, Kettle Creek, Musgrove's Mill, Fish Dam, Blackstock's, Long Cane, Beatties Mill and two sieges at Augusta, the last one successful. He became a Brigadier General. Located in Lincoln County off US 378 at the cemetery on the grounds of Elijah Clark State Park

William Lee Davidson (1746-1781) A militia general who died fighting during the Revolutionary War, William Lee Davidson was born in Lancaster County Pennsylvania, in 1746 . While he was a child his family moved to what is now Iredell County, North Carolina. Active in the pre-Revolutionary movement, Davidson was a member of the local committee of safety in 1775. He was commissioned a major in the 4th North Carolina Regiment in 1776, and marched north with his men to join Washington's army. After taking part in the battles of Brandywine and Germantown in 1777, he was promoted to lieutenant colonel. He fought at the battle of Monmouth in 1778. Then in 1779 the remnants of the North Carolina troops were sent to the South, and Davidson left the Continental Army to join the North Carolina militia. In 1780 Davidson commanded a force of 300 militia in the American victory over the British Loyalists at Ramser's Mill in North Carolina.
Later that year he was severely wounded in a battle with Loyalists at Calson's Mill. He then received a promotion to brigadier general of militia. Two weeks after the major American victories at Cowpens and Kings Mountain, South Carolina Cornwallis and his troops were pursuing the American army of General Nathanael Greene to seek revenge. Davidson and 800 militia he had recruited were stationed along the flooded Catawba River to prevent Cornwallis from crossing. When Cornmallis and his crack British Guards plunged across the river at Cowan's Ford on the morning of February 1, 1781, the militia fell back and Davidson was killed while trying to prevent their retreat.


William R. Davie

Philemon Dickinson (1739-1809) Commanding general of the New Jersey militia during the Revolutionary War, a delegate to the Continental Congress, and a U.S. Senator, Philemon Dickinson was born at "Crosiadore," near Trappe, Maryland on April 5, 1739, a younger brother of John Dickinson. After graduation in the first class from the college of Philadelphia in 1757, he studied law, but never practiced. In 1767 he moved to an estate, "The Hermitage," near Trenton, New Jersey. At the beginnin of the Revolutionary War in 1775 he was commissioned a colonel of the Hunterdon County militia. In 1776 he was elected as a delegate to New Jersey's Revolutionary provincial congress. In January 1777 Dickinson led 400 of his militia in a raid on a British foraging party near Somerset Court House, New Jersey, capturing about forty wagons of supplies and several prisoners. In June 1777 he was appointed major general in command of all New Jersey militia, a post he held throughout the rest of the war. Dickinson's militia took part in the battle of Monmouth in 1778, helping obstruct the retreat of the British to New York. When his cousin John Cadwalader dueled General Thomas Conway on July 4, 1778, Dickinson was Cadwalader's second. Dickinson represented New Jersey in the Continental Congress in 1782-83, and the following year served on the commission to choose the site for a national capital. He was elected by the New Jersey legislature as a U.S. Senator in 1790-93, and after that retired to his estate, "The Hermitage," where he died on February 4, 1809.



Samuel Elbert (1743-1788) Governor of Georgia and Revolutionary War hero who defended Savannah and was wounded at the Battle Briar Creek. On April 18, 1778, captured three British vessels that had been anchored in the Fredrica River. See: Georgia History-The American Revolution

James Ewing


Moses Hazen

Benjamin Logan(1743 - 1802)

Hugh Logan (c1744-1816) Born March 24,1744/5 in Augusta County Virginia. His father was David Logan His brother Benjamin was a General as well as his brother's John and William served as Col. All four brothers served in the Virginia Militia under George Rogers Clark. Reference: T.M Greens Historic Families of Ky. first series 1889 vol. E. also shown as Heads of Family in first Us census for Va. in 1790. Hugh died December 25, 1816 in Stanford, KY.



James Lovell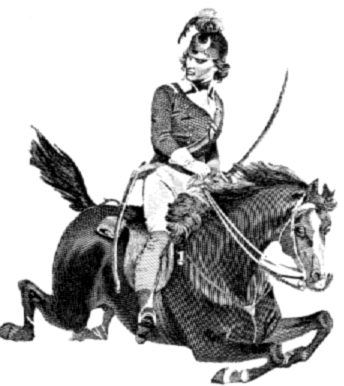 Francis Marion (1732-1795) Born Probably in Berkley County South Carolina. Revolutionary War hero who earned the nickname "Swamp Fox." because he and his band of volunteers would emerge at night from the South Carolina swamps to cut British supply lines. Commanded at the Battle of Eutaw Springs See: The Swamp Fox Festival








Hugh Mercer [1726-1777] was a physician. A general during the American Revolution, Mercer was mortally wounded at the battle of Princeton. Hugh Mercer Apothecary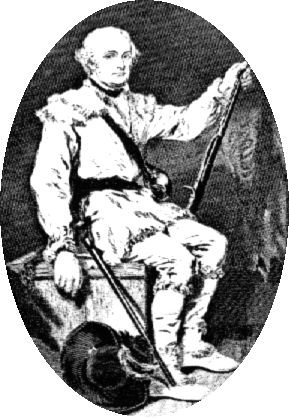 Daniel Morgan (1736-1802) -- American Soldier. He was born near Junction, in Hunterdon County NJ, worked as a teamster, and served in that capacity on Gen. Edward Braddock's disastrous expedition in 1755. During and after the French and Indian War he was an Indian fighter. After the outbreak of the American Revolution, Congress commissioned Morgan captain of a rifle company. He accompanied Gen. Benedict Arnold on the difficult march to Quebec in 1775. On December 31, Morgan led a heroic attack against overwhelming odds on the inner defense of Quebec city before being repulsed. Forced to surrender, he was held prisoner until the fall of 1776. Congress then Commissioned him colonel of a Virginia regiment. Morgan subsequently organized 500 sharpshooters who fought well again Gen. John Burgoyne in the crucial battles at Freeman's Farm and Bemis Heights in 1777. Poor health and dissatisfaction with Congress caused Morgan to leave active service, but he returned in 1780. On January 17, 1781, he won a brilliant victory over the British at the Cowpens, in South Carolina. Morgan then returned to his estate near Millwood Virginia. In 1794, he commanded the Virginia militia as it helped put down the Whiskey Rebellion. He served as a Federalist in the United States House of Representatives from 1797 to 1799. He died in Winchester, Virginia, on July 6, 1802. Source: University of South Carolina History Dept. 1936

Thomas Nelson (1738-1789) Served in Pre-Revolutionary War agitation. Was a member of the Continental Congress from 1775 to 1777 and signed the Declaration of Independence. Served as Militia General of Virginia troops 1778 to 1779.


Jedadadiah Pribble

Robert Van Rensselaer

Richard Richardson
John Sevier was a frontier military leader and became Tennessee's first governor.
George Frederick Spears (1731-1803) Born in Aix la Chapple, Germany on May 6th, 1731 French Hugenot .Served at Valley Forge and Yorktown with Gen. George Washington. Ref. Library of Congress "Spears Saga" published in 1982 or abt.
Adam Stephens

William Thompson

James Wolfe
---
For More information contact:
Sam Maner
Email frogalley2005@charter.net
---